The Voice of the Martyrs
RAYMOND KOH?
Sign the petition below to join Christians around the world in demanding that Malaysia's government explain his disappearance. VOM will deliver the petition, along with a list including the names of those who signed, to the Malaysian Embassy in Washington, D.C.
For security reasons, the Malaysian government will only receive your first name, last initial and country of residence.
Total Countries Represented
2017
On Feb. 13, 2017, Pastor Raymond Koh was abducted off the streets of Malaysia. He hasn't been seen or heard from since, and his car has never been found. Video of the entire crime was captured by nearby security cameras.
The 2017 abduction wasn't the first time the pastor had faced persecution because of his faith and service; he had previously received a box of bullets in the mail, warning him to stop his ministry work. But the threats didn't stop him, and in the months prior to his abduction, his wife noticed a spiritual deepening in her husband. She believes God was preparing him for the challenging time to come.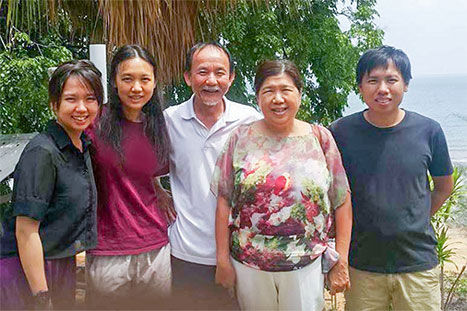 2019
Early in 2019, Malaysia's Human Rights Commission issued a report blaming the abductions of Pastor Raymond and others on the "Special Branch" of Malaysia's police. But to date, no one has been held accountable, and Pastor Raymond's whereabouts and condition remain unknown.
Please enable JavaScript in your browser and refresh this page in order to use this form.
Sign the petition
Attn:
Prime Minister Mahathir bin Mohamad
Kuala Lampur, Malaysia
Attn:
Tan Sri Dato' Seri Abdul Hamid bin Bador
Inspector-General of Police
Royal Malaysian Police
Honorable Prime Minister and Inspector-General:
One of your country's loyal citizens has been missing for almost three years. Pastor Raymond Koh was kidnapped off the streets on Feb. 13, 2017, and has not been seen since. His car has never been found. His wife and children have been left to wonder what happened to him and whether he is still alive.
We, Pastor Raymond's fellow Christians from around the world, call on your government to release any and all information related to the forced disappearance of Pastor Raymond Koh, including any involvement of policemen from the Special Branch.
We demand Pastor Raymond's immediate release and safe return to his family.
Finally, we call for justice. Those responsible for his disappearance must be held accountable for this inhumane crime.
Signed,